1.5VL & 1.5VLR COMPOSITE DECK PROFILES
1.5VL Composite Floor Deck features a profile that is 1.5 inches deep and is provided in 36' panels with multiple finish options. It is available in with three side-lap connection options.
1.5 VLR is the inverse of 1.5VL. This profile, available in 36' panels with multiple finish options, provides the wider parts of the ribs toward the bottom of the deck, which allows a greater amount of concrete to be included in the final deck-slab.
For technical information, including loading capacity information, please refer to our Technical Information. While this information is for common situations, not every project is common. For answers to any questions, please reach out and TALK TO AN EXPERT.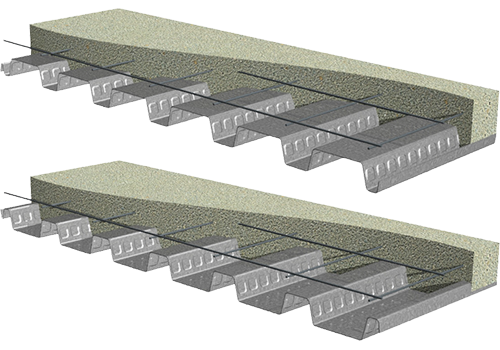 UTILIZING OUR DESIGN TOOLS
Vulcraft's Design Tools allow you, as the designer, to obtain custom design information for your project, look at scenarios, and allow you to find the highest value solutions for your client.
COMPOSITE DECK-SLAB
SUPERIMPOSED LOAD
Formerly Composite Deck-Slab Strength
Calculate composite deck-slab strength and maximum unshored span tables for your composite deck configurations.
UNSHORED CONSTRUCTION SPAN
Formerly Unshored Span Calculator
Calculate maximum unshored construction spans for thick slabs based on your design criteria.
ADDITIONAL TOOLS
Information on wall anchorage design for steel deck, steel deck web crippling design, and other tools are available.