1.3C & 1.5C NON-COMPOSITE DECK PROFILES
Our 1.3C Non-Composite Deck measures 1 5/16 inches in depth, and comes in 32" panels.
1.5C Non-Composite Deck measures 1.5 inches in depth, and comes in 36" panels. Used in areas with moderate floor loads, supports are typically spaced 4' to 6' on center. This deck profile is manufactured as Vulcraft 1.5B deck, but flipped upside down in the field, putting the larger rib on the bottom and allowing for concrete fill. This profile is also often used in with our Ecospan® Floor System.
For technical information, including loading capacity information, please refer to our Technical Information. While this information is for common situations, not every project is common. For answers to any questions, please reach out and TALK TO AN EXPERT.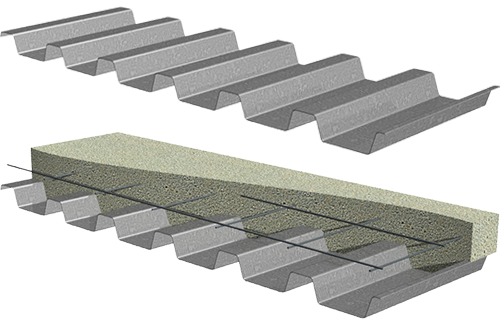 UTILIZING OUR DESIGN TOOLS
Vulcraft's Design Tools allow you, as the designer, to obtain custom design information for your project, look at scenarios, and allow you to find the highest value solutions for your client.
BARE DECK DIAPHRAGM
Formerly 2018 IBC Deck Diaphragm
Calculate the bare deck diaphragm shear and stiffness for your configuration based on AISI S310 and IAPMO reports.
BARE DECK UNIFORM LOAD
Formerly Steel Deck Uniform Load
Determine the uniform gravity loads for your bare deck configurations.
ADDITIONAL TOOLS
Information on wall anchorage design for steel deck, steel deck web crippling design, and other tools are available.